Read Across America Week: Creating and Celebrating a Nation of Diverse Readers!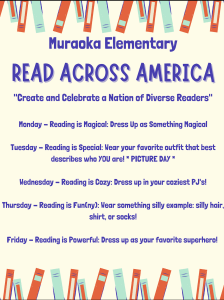 As many of you know, we opened our Muraoka Library last week and students will be checking out books to borrow at their scheduled time. This is entirely new to Muraoka, and we are so grateful for our PTO, our library technician, Mrs. Haas, and our amazing staff for supporting these efforts. Our school library will continue to be a focus and we will continue to add titles each year! We are excited to build on this commitment to literacy with our Read Across America Week. Please reach out to your classroom teacher if you would like to be a guest reader this week! Please see the attached schedule for our Spirit Week!
Parent Teacher Conferences March 9-March 16:
Our Spring Parent-Teacher conferences begin on Thursday, March 9th and end on Thursday, March 16th. All students will have minimum days during parent teacher conferences with dismissal at 1pm for kindergarten and 1:15 for 1st-6th. This is a wonderful opportunity to discuss your child's progress. Every family is expected to participate in a conference so please reach out to your classroom teacher if you have yet to schedule a conference time.
Cell Phones and Phone Watches:
We have seen an increase in students using personal cell phone and phone/watches on campus. For your student to bring a cell phone onto campus, they must have a cell phone policy contract signed and on file (contract was included in the beginning of the year forms). The cell phone contract indicates that all cell phones must be turned off and put away from the moment your student arrives on campus until they depart. Cell phones will be held in the office or with classroom teacher until a parent is able to pick up if the cell phone contract is violated. If your child is wearing a watch that can act as a phone, those features must be disabled while on campus. Thank you for your support.
Breakfast served daily from 7:35am -8:05am:
This is a friendly reminder that free breakfast for Muraoka Students is served from 7:35 am-8:05 am as stated in our parent handbook. Please arrive prior to 8:05 if your student plans to eat breakfast. This will allow students sufficient time to eat and arrive to class on time.
Submit Yearbook Photos:
The yearbook needs your help! Do you have pictures of your students at school events or on Spirit Days? If so, please create an account at ybkpix.com and submit your photos directly to the Yearbook Committee. Please see the How-To Sheet for any additional questions.
CVESD ThoughtExchange Survey is Now Open!
It is not too late to participate! This is your opportunity to share what is going well or what you believe could improve your student's educational experience. We would love to see all our families participate. If you do not feel like sharing your thoughts, you can log in to read the thoughts of others and rate them as important to you or not that important to you.
Our annual ThoughtExchange for community input on the Local Control Accountability Plan (LCAP) is now open! Please see the flyer (in English and Spanish) for more information. This year, we are asking the question: What are some things we are doing well, and what could improve the educational experience we provide students through the LCAP?
The LCAP shapes our District's goals and guides our budgeting priorities at both the district and school levels. Please join in on the conversation from Feb. 1 through April 1, 2023.
Link to survey: https://my.thoughtexchange.com/scroll/629912727
Important Dates!
February 27-Mar 3- Create and Celebrate a Nation of Diverse Readers- Read Across America & Spirit Week
March 9th – 16th – Minimum Days for Parent/Teacher Conferences
March 17th – Last Day of Quarter 3
March 20 – 31st – Spring Break
April 3rd – First Day of Quarter 4 – Minimum Day